Joined

Mar 26, 2022
Member Number

972
Posts

21
Location
hi all,
am not asking a question in this thread, just sharing some options/ideas
i have two 1200GS, a 2013 wethead, with spoke wheels and 152,000km......
.multiple wheel sets, with a full range of tyres
and
a 2008 hexhead, with cast wheels and 181,000km..............
.mainly used as a city bike with 70road/30gravel tyres
i find myself doing more and more gravel road riding and after losing the front and buggering my knee(ACL?) with combination road/gravel tyres,
on thick gravel
, i now want proper knobbys as much as possible on at least the front for gravel..............
and ideally that front knobbly is on a 21" cross-spoke wheel
but i also ride year-round in a lot of wet, oil slicked city roads, where a fully knobbly doesn't grip well
so have been looking for 2 sets of wheels
unfortunately many, many GS riders are also looking for spare wheels for similar reasons, so even used they are expensive and snapped up quick

so thinking outside the box, are there other wheels we can use?
yes - we can use cast 17" rear wheels from the R/RS/RT bikes.......same bolt pattern and as they are not is much demand so are available and affordable,
but mufflers need to be spaced out etc
on the front the wetheads can use 1150GS wheels.....same axle size, bearings and brake disc mounts/spacing.....and the narrower 2.5" rim is better for narrow knobblys to cut through thick gravel, (just need to make 5 little extension arms for the ABS disc)
so the wethead now has a 2nd set of wheels that were easy to find and cheaper than wethead wheels
....
but we can do more!
the best front wheel for an adventure bike on thick gravel is a 21", so in a couple of months a 2nd hand R80GS cross-spoke 1.85x21 front wheel will arrive from germany and can hopefully be easily laced on to a spare wethead front hub from the wrecker...............
the R80GS hub has a different brake disc mounting and no mounts for ABS ring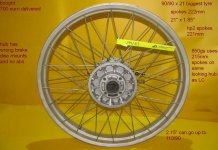 and recently a local wrecker has been flogging off bits from bmw's first cruiser, the R1200C
largely an over-bored? 1150 many of the parts were common with the 1150GS and the parts fiche showed the axle, brakes, abs were the same
which means,
like the 1150GS
, the 1200C front wheel should fit a wethead with just a couple of axle simple spacers and the same ABS disc arms
picked up the R1200C wheel today and have started cleaning it up.............part of the reason it was cheap is that it looks a mess with the thin chrome over the alloy rim bubbling off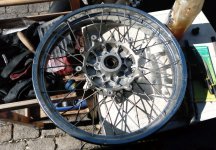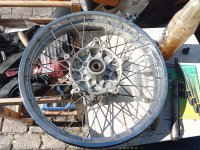 we know some GS riders super-motard their bikes by going down 2" to 17" front wheels, so hopefully dropping down 1" to 18 won't change handling characteristics too much
Last edited: