Joined

Feb 7, 2022
Member Number

81
Posts

58
did my oil change today on my 2018 1200 GSA and realized over the years i have tried to make it as stress free as possible with the least amount of MESS.. some of these ideas may fit your needs if so good if not ignore..
1. make sure i have correct oil,filter and crush washer before i start ! inmates get their supplies in many different ways .. i get mine delivered by beemer boneyard
https://www.beemerboneyard.com/
easy peezy ,reasonable priced and if i need advice the two bros are a phone call away and Great resources .
2. I look at my cheat sheet ( created by another inmate ) and gather my tools and materials
3.i put on my 5 mil nitrite gloves from Harbor Freight and my gray shop coat
my cheat sheet and supplies gloves,oil and filter fyi beemer boneyard tapes crush washer to top of mahle filter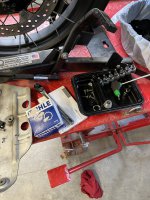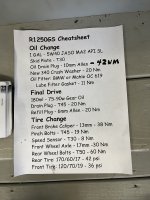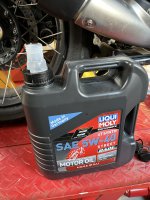 i slip a kitchen garbage liner over my oil drain pan so when i'm done No Need to use a pile of rags to clean out the pan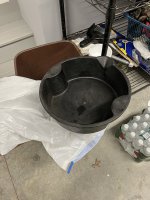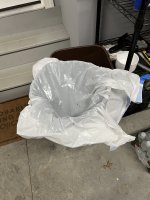 i also use a piece of tim foil that neatly conforms under the oil filter to stop leaking drips all over when i spin off the filter..
Yes i've tried those green flexible pads BUT just another thing to clean .Tim Foil goes in the garbage.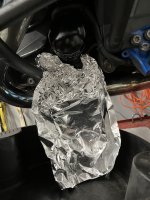 i do my draining after engine was warmed up.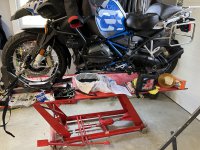 After new filter and torque drain to 42 nm add some fresh fluid .. the oil comes with a nice built in spout but if needed i use disposable paper funnel !!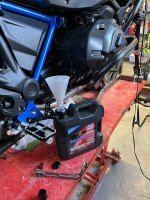 when done i drain used oil back into empty oil container ( that i bring to recycler) slide pan out of garbage bag that i throw any garbage,gloves in then toss and run bike for 5 minutes with paper towels underneath to check for leaks and check final oil level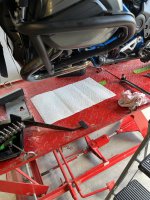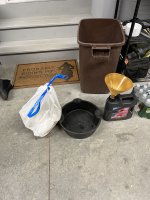 Last edited: