Active member
Vendor
ADV+
Joined

Mar 14, 2022
Member Number

856
Posts

41
Location
MotoTrialsParts
Shop Doodads for MotoTrials. by MotoTrialsParts located in Carlisle, Massachusetts. Speedy replies! Has a history of replying to messages quickly. Rave reviews! Average review rating is 4.8 or higher
mototrialsparts.etsy.com
My 3D printed Magnetic Kill Switch Caps are a direct replacement for the bullet shaped cap on Jitsie/Leonelli magnetic kill switches. They offer a couple of improvements over the factory cap:
The magnet is more secure. It is printed in place and cannot be removed without breaking the plastic holding it in place. The magnet in a Jitsie cap is pressed in place after the cap is injection molded. Many riders have had the switch fail when the magnet pulls out of the cap when the tether is yanked.
There's a lip around the cap allowing the kill switch actuated with your thumb. In crashes where your throttle hand is not free and the engine is runnng, it may not be safe to release the clutch and move your left hand to pull the tether. The lip also makes routine stops a convenient one handed operation. Tip the cap up with your thumb until the kill switch activates and then let the cap fall back into place.
The kill switch cap can be ordered in different colors to match your bike. Several popular logos are also available: TRS, Beta, Yamaha, Honda. Club logos or other personal designs can also be printed on the top. Custom prices depends on quantity and design work required.
Yinzer Moto
tested the caps in most recent issue of "On The Pegs"
(click here and go to page 30)
.
He also recorded a video review:
There are two versions of the Kill Switch Cap:
1) The unthreaded cap for any bike using a Jitsie/Leonelli kill switch is $10.00
(click here to purchase)
.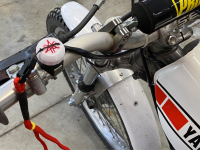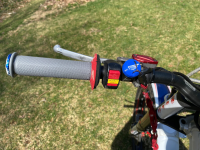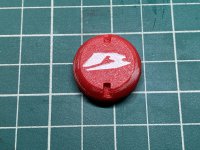 2) The threaded cap for eStart TRS models that includes a mating threaded starter button protector is $12.00
(click here to purchase)
.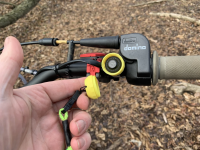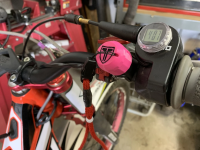 Last edited: