Joined

Feb 12, 2022
Member Number

664
Posts

108
Location
Getting ready to set out for a ~2000 mile moto-hobo camping trip over 12 days at the end of the month. Plan is to run the northern portions of the South East Adventure Trail from the old forum (
https://www.advrider.com/f/threads/seat-south-east-adventure-trail.1225114/
) on my KTM 690 Enduro, and sleeping every night but one out in the national forests. My goal is mostly dirt roads, and I'll be running a fresh set of Tusk DSport tires knowing they will be dead when I get back home.
I've got a buddy near Chattanooga, TN who's willing to share his home and, most importantly, his washing machine, so I can take care of my drawers halfway through the ride. No one likes a stinky rider.
I'm still considering taking a detour to the tail of the dragon.
Anything else you see on the route that I ought to deviate for?
The actual route covers ~1400 miles, with 2x 300 mile legs getting to/from the start/finish and home on the tarmac. I'm very much time constricted and feel like 1 day out, 10 days on the trail (140 mi/day), and 1 day back is a reasonable expectation.
To keep the wife and kids happy, I picked up a Garmin GPSMAP 66i. Once I'm ready to roll I'll throw up the link to the satellite track updates.
More to follow when I actually execute!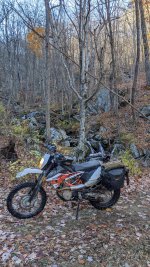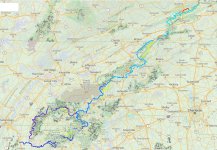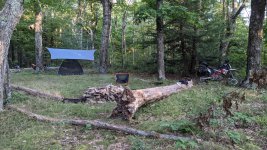 Last edited: